COVID – 19 Updates
If you are having flu-like symptoms, such as fever, chills, muscle aches, difficulty breathing, recent cough, headache, sore throat or a sudden loss of taste or smell, please call your primary care physician.
Your safety is our primary concern. Ambulatory Care Center is uniquely positioned to deliver the highest-quality surgical care while minimizing exposure to infection.
Our surgery center is a controlled space, staffed by health care providers who understand and have experience managing infection and disease. Patients who are known or suspected to have the COVID-19 virus are not treated at Ambulatory Care Center. We are able to maintain an infection rate much lower than other health care facilities by adhering to strict infection prevention standards. In 2020, we have had no infections. However, with heightened concerns surrounding the COVID-19 virus, we are taking additional steps to take care of our patients, staff & community: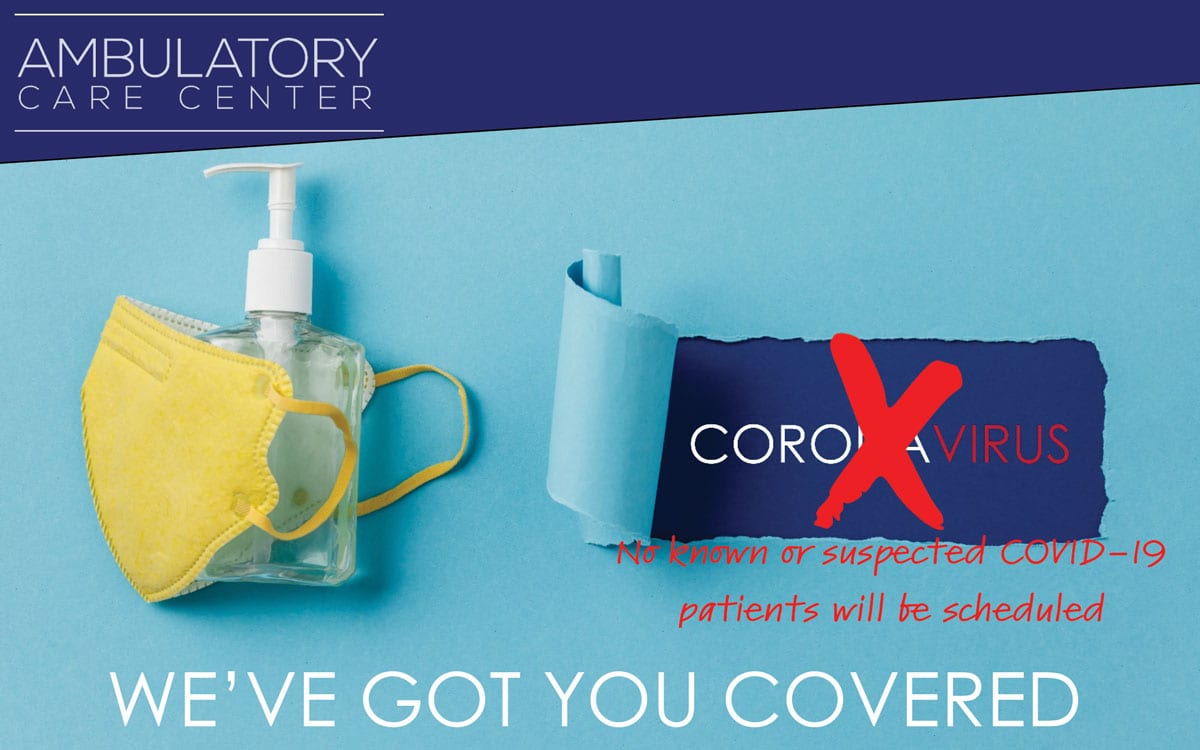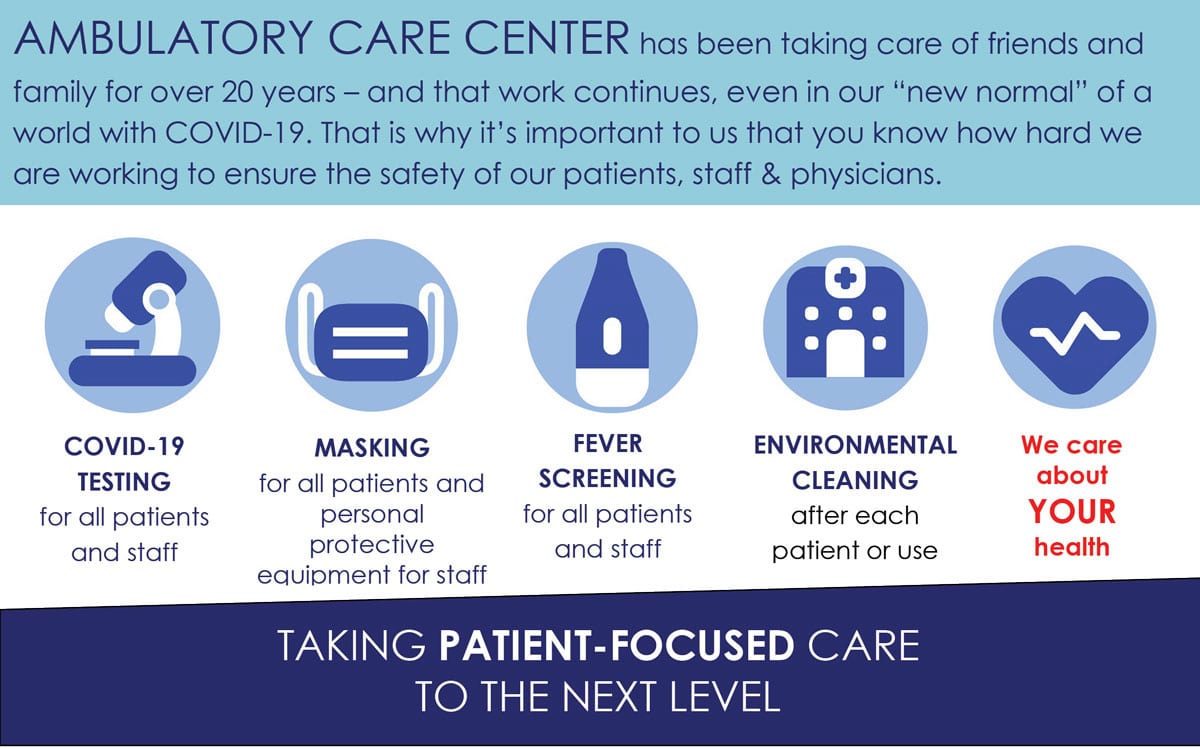 Step 1: Our Patients
COVID-19 Testing Patients coming to the center will be tested for COVID-19 3-5 days prior to surgery with the expectation that they will isolate and follow social distancing guidelines prior to the day of surgery.
Prescreening We are only scheduling patients who meet our strict health guidelines. For now, this means a zero-tolerance policy for fever, cough or other flu-like symptoms. Patients who have been in contact with known carriers must reschedule in accordance with the CDC guidelines requiring 14-day isolation.
Masks Patients must always wear masks while in the center.
Hand Hygiene Patients will be asked to use sanitizer upon arrival to the center.
No Visitors Patient escorts will be asked to wait outside the center. They will be called to pick up the patient at the front door for discharge, and instructions for post-op care will be given then.
Step 2: Our Staff
COVID-19 Testing Ambulatory Care Center staff has been tested for COVID-19, with no positive results. In order to maintain this status, staff will continue to follow isolation and social distancing guidelines.
Daily Screening All center staff will undergo daily temperature checks and screenings for symptoms of illness.
Masks Clinical and business staff will wear surgical masks at all times.
Social Distancing measures have been implemented. This includes:
– limiting the number of patients in the center at any given time
– spacing out chairs so they are at least six feet apart in the waiting area
– minimizing patient touchpoints
No Visitors rule is in effect and prohibited unless absolutely necessary.
Step 3: Our Center
Best Practices We are accredited by the Accreditation Association for Ambulatory Health Care (AAAHC) and maintain the highest standards and best practices as recommended by the Association of periOperative Registered Nurses (AORN), Association for the Advancement of Medical Instrumentation (AAMI) and Ambulatory Surgery Center Association (ASCA).
Stop the Spread of Germs Ambulatory Care Center endorses the Center for Disease Control (CDC) guidelines to help prevent that spread of respiratory diseases like COVID-19, including: social distancing, cough and sneeze etiquette, avoid face touching, clean and disinfect frequently touched objects and surfaces, stay home when sick except to get medical care and wash hands with soap and water for at least 20 seconds. More information is available on their website at www.cdc.gov/COVID19 .
Cleaning in Waiting Area Only EPA-registered cleaning products are used, and waiting areas are cleaned after each patient. This includes high touch surfaces such as chair arms, doorknobs, tabletops, countertops, handles, sinks and faucets.
Cleaning in Clinical Areas We clean procedure rooms and patient bays before and after every patient. In addition, we clean all of our public areas throughout the day and are minimizing traffic in those areas.
Tissues and Sanitizer are available throughout the building.